Fruit games are fun and interesting; there is that feeling of satisfaction when you successfully slice a fruit. If you have never played fruit games, now is a good time to start – be careful, you could get addicted to their charm.
Meanwhile, if you are familiar with fruit games and need one or a few to download, you will find them here. If you keep reading, you will find our review of some of the best fruit games you can play for free.
Fruit Ninja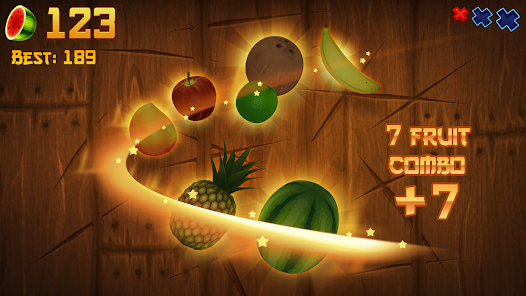 Fruit Ninja has been around for a long time; the game gives you the freedom to slash fruits with a sword. This game is an addictive skill game where your task is simply to slice up fruits as much as you can. You wield your sword by simply swiping your finger across the screen, ensuring no fruit escapes your sword. The fruits are thrown up from the bottom of the screen; you need to slice them before they fall back down.
Meanwhile, watch out for the rogue bombs that also fly up with the fruits; you lose a lie with each bomb you swipe. Fruit Ninja has an excellent feel and look, from the serene background music to the realistic splat of fruits.
Fruit Burst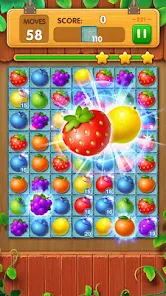 This 3D puzzle game features some of the most juice-filled and fun game levels. In Fruit Burst, the objective is to play with at least three fruits, connecting them by blasting them. The game is pretty easy and exciting to play with different goals you must complete to go to the next level. The goals include unlocking fruits, delivering keys to the portal, and breaking ice cubes; creating massive fruit juice with seven fruits.
Sweet Fruit Candy
Sweet Fruit Candy is an indulging eliminating puzzle game in which you can explore a plethora of candles. It has easy and harmless gameplay, making it a great game for different people of different ages and gender.
The game features 1,500 levels that challenge and entertain you for a long time, and you don't need the internet to play. The latest update of the game features an elimination format that makes the game stand out among other fruit games.

Fruit Fancy
Fruit Fancy is an Android-compatible fruit game with multiple levels of difficulty and several interesting mini-games you can play. Have fun with this skill fruit game as you smash all the juicy fruits to create huge massive fruit juice.
There are different magical doors to blast open in the game, and the fruits are the key to doing that. The application is free and available in English, Spanish, and Portuguese; blast ice cubes with the bombs in the game.
Fruit Ninja: Puss in Boots
Fruit Ninja: Puss in Boots, created by Halfbrick Studios is a full version game available for Android and iPhone. The game is another version of Fruit Ninja, featuring Puss in Boots; it is visually simple but fun to play. Your goal is to cut every fruit you can whenever you can; you can make extra points by making combos.
The game has the arcade and bandit modes where your score depends on the quantity of fruits you cut. It also depends on your reflexes and the techniques you use to cut the fruits. Fruit Ninja: Puss in Boots has addictive and easy gameplay where you just slide your fingers across the screen to cut fruits.
Fruit Ninja vs. Skittles
This game is a special version of the popular Fruit Ninja; the gameplay is the same, but you're also cutting Skittles. While there isn't anything substantially new in the game, it does introduce candy as a new game element. Furthermore, there are several choreographic elements; meanwhile, its lack of multiplayer mode and leaderboards make it more limited than the older editions. Still, it is a great, fun, and interesting game to play – particularly if you are addicted to the Fruit Ninja series.
Fruit Bubble Pop Bubble
Fruit Bubble Pop Bubble is a shooter game you can play for free on Android; it is available in different languages. The game features many addicting yummy-fruit-bubble-filled puzzles with captivating graphics and designs to keep you entertained.
It is a great game to play when you are casually relaxing, perhaps taking a break from the day's hard work. There is plenty of brain-training quests in the game; combine three or more balloons for extra points.
Fruit Link – Line Blast
When it comes to games that help you relax and have fun at the same time, Fruit Link – Line Blast is it. Earn rewards by cutting the delicious fruits; then connect and blast fruits to proceed to the next level. Featuring three difficulty levels played in different locations, this game has a cool design that enhances the gamer's experience.
Radical Rappelling
Another exhilarating game from Halfbrick Studios, Radical Rappelling offers a just-one-more-go gaming experience to players. It combines Fruit Ninja's single swipes with Jetpack Joyride's fun, creating addictive experiences for mobile users.
The game takes a simple mechanic, jumping up and down until you have pounded it into your preferred shape. The goal is to get as far down as you can; watch out for the spikes and river of lava chasing you.
Fruit Master
Fruit Master is a free-skill Arcade game where your mission is to make smoothies uniquely. You make them by slicing flying fruits with sharp knives until the glass is full; then, serve your customers. The fun the game offers makes it addictive, and there are many levels, each one a unique shade of exhilarating.